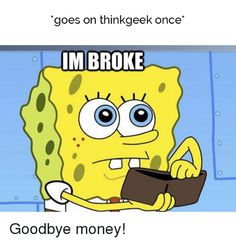 If you like money, you definitely like funny memes about money too.
Our dream is to stop working and spend all the money in the world!
Maybe you find a meme of a situation in which you lived in life…
Maybe you will find a meme that reminds you of a friend and you want to send it to him or her …
Join us and laugh with the list we have prepared for you.
Enjoy!
Gold collection:  Funny Memes About Money
You can also see all categories of funny memes on our website.
It is always updated with new memes.
If you prefer, you can find some categories like funny memes about sex.
Feel free and enjoy our website.
Here is the list:
1. Stay at home … buy online, they said
I tried not to spend money….
But with this quarantine, Amazon was the destination of my money.
When I realized, it was too late.
Another month buying things that won't make me happy! O.o
2. This is me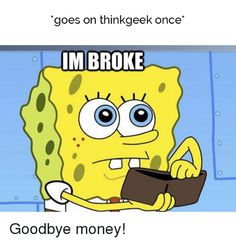 It reminds me of many … many moments I lived in life…
I worked all month, but my wallet was like SpongeBob's wallet ….
If you lived moments like this … this funny memes about having no money it's for you.
3. No money, no travel
Sometimes we feel like traveling, but reality appears to show us the places we can visit.
If you wanted to travel right now, this funny meme about spending money  was all you needed to see.
4. A motivating word can change everything
Do you know those days we are sad?
Sometimes a motivation can change everything.
And doing that is very easy!
Just compare with your bank account!
After that, are you happier or sadder?
5. A day of the rich, a day of the poor …
The feeling of payday is very pleasant!
However, the joy of a poor person does not last long …
One day after payment, all that's left is coins!
At least, my bills are all paid!
And the amount of my credit card is paid too!
I identified with that funny meme about spending money.
6. The dream of having a car in your life
Ripening is part of life.
And it is so important to think about which cars will be part of your life over the years.
7. The end everyone expects
It looks like some people will get rich.
Hopefully it will be you!
If you liked our selection of funny money memes, share it with your friends.
Enjoy and see more funny memes here on the site.
Have an amazing day!